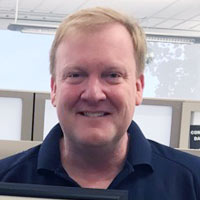 Norm
Norm has been interested in license plates and "old car stuff" since he was a kid growing-up in Montreal, Quebec in the early 1970's.
The Ingram family who lived two doors down from his grandparents house, had a string of old Quebec license plates tacked-up on the wall of the garage which could always be seen from the sidewalk when Norm pedalled-by on his tricycle. The father of the family had saved his plates every year since he started driving, and the plates went way back into the late 1930's. Quebec always had vivid and different color schemes for their license plates year after year, and the display of all those colors and numbers struck a chord with the youngster. When nine year old Norm found a discarded 1975 Quebec license plate in a vacant lot, he fastened it to the handle bars of his bike (He graduated to a two-wheeler by then).
Shortly after he and his family relocated to Toronto, Ontario when he was 13 years old, his interest in old license plates kicked-into high gear when he found a pristine 1956 and 1968 Ontario license plate in the remnants of an old abandoned farmhouse he was exploring. He then wanted to fill-in the missing years of the "run" of Ontario license plates and hung them up on the garage wall of the family's home, just as he had seen at the Ingram house "half a lifetime ago". Going to antique stores, garage sales and flea markets, Norm began finding other license plates from Ontario and elsewhere in Canada as well as the United States which also found a place on the garage walls. He found out about and joined ALPCA (Automobile License Plate Collectors Association) in 1982 and joined the ranks of thousands of other people from around the world sharing the same unusual interest.
In 1992, Norm began a career in law enforcement and being the "incurable collector" that he was, began to collect police insignia as well. Shortly after moving out of his parents' home as a young adult and realizing that two growing collections would be too much to handle, he blended both hobbies into one by collecting law enforcement-related license plates. Over the past 20 years, Norm has amassed the most comprehensive collection of law enforcement license plates from North America and around the world. Norm's hobby extends from the mere gathering of license plates for his collection to researching and exploring the history of the agencies involved and the careers of the officers to whom many of his plates were issued.
The greatest pleasure that has come as a result of creating the website to showcase the subject has been the vast amount of new friendships that have been cultivated. If it's your first time dropping-by the site; WELCOME! and if you are a repeat visitor: WELCOME BACK!
Take a tour of Norm's displayed collection